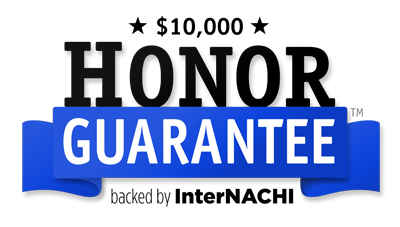 Inspection Services
HTown Home Inspections offers comprehensive home inspection services to the greater Houston metropolitan area. We're proud to have established a reputation as one of the area's top home inspection providers, adhering to TREC's strict Standards of Practice. We offer free thermal imaging with every complete home inspection, a 100% satisfaction guarantee, and our inspection services start as low as $425!
Buyer's Inspection Services
A Buyer's Inspection is a thorough evaluation of a residential property's visible and readily accessible components. A basic thermal imaging scan is included at no extra cost to determine if certain components may be contributing to energy loss or moisture intrusion inside the home. This application of infrared technology helps us to achieve the high accuracy and far-reaching scope our inspections have become known for. A moisture meter may also be used to test suspected areas of moisture intrusion.
We inspect the following components:
Roofing System
Foundation & Crawl Space
Structural Components
Driveways & Walkways
Grading & Drainage
Attached Garage
Deck & Balcony
Exterior (doors, windows, cladding, soffits, fascias)
Interior (doors, windows, floors, walls, ceilings, stairs)
Attic, Insulation, & Ventilation
Fireplace
Plumbing System
Heating & Cooling Systems
Electrical System
Well & Septic
Pool
Built-in Appliances
A full report of our findings filled with numerous illustrative pictures will be available in less than 24 hours. If you have any questions after looking through your report, feel free to call us at any time.
We also offer the following inspection services:
Commercial Property Inspection
This inspection is a comprehensive assessment of a commercial property's condition. Whether you're investing in a storefront, multi-family housing, or any number of other light commercial properties, we'll identify potential defects so that you can determine the best course of action to take with your prospective investment.
Pre-Listing Inspection
Before selling a home, you need to make sure you have a firm understanding of the property's condition. This inspection is aimed toward the discovery and identification of defects or safety issues inside a home that may warrant a seller's attention. With this information, you can make repairs as necessary to preserve your home's value. It will also give you a chance to reveal known issues to prospective buyers so that fewer complications arise during negotiations after the buyer's own inspection has taken place.
New Construction Inspection
The construction of a new home is a drawn out and often stressful process for all parties involved, and as the buyer, you deserve to have peace of mind before moving in. As construction draws to a close, we'll thoroughly evaluate the property's readily accessible areas. If defects or other issues are discovered, we'll let you know so that you can have the builder address them while the project is still ongoing. Most clients don't know that most homes outside of the downtown area were not inspected by a city inspector. That's why you need HTown Home Inspections!
New Construction Phase Inspections
This inspection will occur at three different phases of construction on a new home: pre-foundation, pre-sheetrock, and again before the final walkthrough. By having a professional home inspector look at the home at each phase, you'll ensure that construction on your new home proceeds with minimal delay—because the builders will be able to address issues before it becomes difficult to do so.
11th Month Warranty Inspection
A newly constructed home is often protected by a 1-year warranty provided by the builder. Before the first year has passed since your home was built, you should schedule this inspection so that you can move beyond the warranty period knowing that your investment remains safe and sound. If defects or safety hazards are discovered, they may be covered by your warranty so that your out-of-pocket expenses are minimized.
Re-Inspections
If we discovered defects during another inspection for which we recommended repair or replacement, then we strongly recommend scheduling a Re-Inspection once the necessary actions have been taken. We'll return to the property, carefully looking over whatever modifications have been made to see if the issue has been resolved and to ensure that the component in question is safe. Additional charges will apply.
Termite Inspection
This service is performed by Bulls Eye Pest and Termite, a third-party specialist. We attempt to schedule this services for you at the same time as the home inspection. A Termite Inspection will investigate a home's structure for signs of damage caused by termites or other wood-destroying organisms. The damage caused by these pests isn't always visible to the untrained eye, making it important to bring in a specialist before making a decision about the purchase of a home.
12415 Washington way
Tomball TX. 77375