A Vital Exchange of Information
A pending transaction in real estate can lead to a handsome payday for more than one party involved in the process, and that fact alone can make a prospective homebuyer averse to the idea of reaching out for help. But at HTown Home Inspections, (AKA A Professional Home Inspection), we believe that reaching out is the right thing to do when you can be assured that the help you're receiving is honest, unbiased, and professional. That's why we offer an investigative home inspection that keeps your interests at the forefront of our business. Accurate information about a home's condition is indispensable to a successful investment, and we're committed to helping you recognize potential defects and other safety issues so that you can seek solutions before a transaction is final.
At the End of an Inspection, We're Just Getting Started
A complete inspection report will be available for you to read within 24 hours of your home inspection—and often, your report will be ready as soon as the inspection is over. To view your report, simply log in on our website. You'll find informative, easy-to-read summaries of each readily accessible home component. Wherever a component is identified as defective, we'll include ample photographs and even videos when needed to make it clear why that area of the home needs repair or improvement. We create a secured web space for our clients and their agents, which gives them the ability to review their report. Reports are then kept in the secured web space for 5 years.
See What Our Clients Are Saying!
"Mark, Thanks for the response. We did have the first walk thru today and the builder was pretty impressed with your findings.. Thanks for your excellent work yesterday..I would be glad to provide referrals to couple of my friends looking for houses now in the Houston area."
Sunil G.
New Construction Home Buyer, The Woodlands, TX
"The Inspector was very friendly and was not bothered by our presence at all. He was very informative and answered all of our questions and added some of his own input as well. I was impressed with how technology has enhanced the inspection business by the inspector's use of a digital camera with a recording device. I'm sure this saved much time in getting our report to us the same day."
Elsa Bailey
First time home buyer, Spring, TX
"The inspector knew his stuff, so much so that I gave him a new nickname: "Eagle-Eye" I was raised in the home building business, yet your inspector noticed details that my trained eye nonetheless overlooked. Your Inspector knows his stuff; he was on-time and he was very thorough."
Monte Goodner
Experienced home buyer, Tomball, TX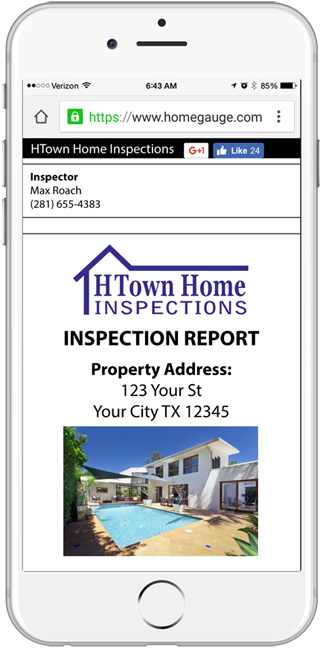 Our Digital Reports Feature The CRL™ (Create Request List™) Tool
We are excited to announce that we also include access to the convenient Create Request List™ (CRL™) feature by HomeGauge so that you can rely on your report throughout the negotiating process. This exciting new feature has generated positive comments from both the buyer's and seller's agents. We believe that you will find this to be helpful and convenient, too.
The CRL™

Makes it easy to create a project or repair request list directly from your inspection findings

Is accessible from almost any device with an internet connection

Will be appreciated by you and your real estate agent alike when the request list is referenced along with the standard repair addendum during negotiations with the seller
Proud to Serve the Greater Houston Metro
We offer professional home inspections to the greater Houston metropolitan area, including Houston, Tomball, Cypress, The Woodlands, Spring, Humble, Katy, Sugar Land, Rosenberg, Pearland, Magnolia, Conroe, and Clearlake.
Ask us about our discounts for military, police, and fire professionals.
12415 Washington way
Tomball TX. 77375